LOS ANGELES-BASED ARTIST KEILYN (KEY-LIN) IS A DOUBLE-EDGED SWORD IN THE WEST COAST HIP HOP SCENE. AS A RAPPER AND PRODUCER INFLUENCED BY THE STYLE OF J DILLA AND SMACK URL DVDS, HIS FLOW IS VERY DISTINCTIVE DUE TO HIS PASSION FOR ANY TRACK. HE WAS RAISED IN YOUNGSTOWN, OHIO AND AFTER A FEW SEMESTERS IN COLLEGE, HE DECIDED TO PURSUE MUSIC FULL TIME. IN 2014, HE WAS FEATURED ON THE SOURCE AND HIPHOP DX IN 2016. IN THE PAST TWO YEARS, HE HAS RELEASED A MINI-SERIES OF PROJECTS KNOWN AS DOPE NEVER DIES, NAMED AFTER HIS BRAND. WE HERE AT PAYDAY DECIDED TO TALK TO THE DOPE EMCEE PRIOR TO HIS UPCOMING PERFORMANCE WITH US ON NOVEMBER 23RD. 
Interview conducted and written by Jay Guevara (@justinhisprime). Writer for Payday LA and @TheMSQShop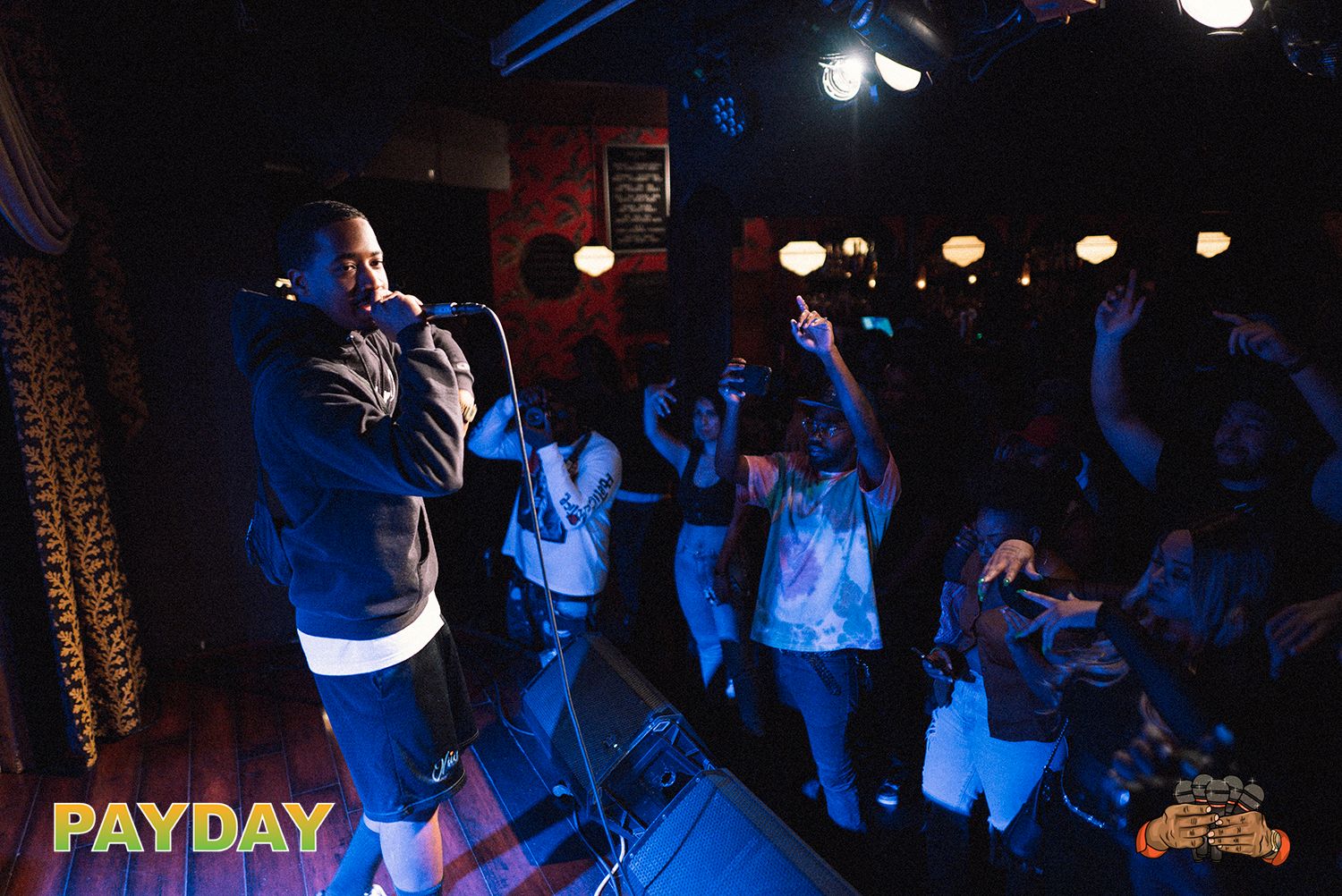 TALK TO ME ABOUT THE DOPE NEVER DIES LABEL. YOU EVEN RELEASED A SERIES OF PROJECTS NAMED DOPE NEVER DIES 1 AND 2 RESPECTIVELY IN 2019 AND 2020. 
Dope Never Dies is a brand that started off as just a slogan. As time went on the slogan started to gain more meaning and not just something that sounded "cool". Dope Never Dies is about making a dent in the universe, leaving your mark here on earth that will live forever. The first two volumes of "Dope Never Dies" are just the beginning, I got a lot of plans for this music series. 
YOU PRODUCE YOUR OWN MUSIC. DO YOU HAVE A PREFERENCE ON ANY DAW'S AND EQUIPMENT OR CAN YOU WORK WITH WHATEVER YOU HAVE AROUND YOU? 
FL gang all day! Both of my big homies who taught me how to make beats used FL Studio and I ain't left the nest yet! I also use Cool Edit 2.0 to chop and reverse my samples too. 
WHILE I WAS LISTENING TO YOUR BEATS ON DND, I NOTICED THE CONSISTENT PRESENCE OF PERCUSSION WITHIN THE PRODUCTION. CAN YOU GO INTO DETAIL ABOUT HOW YOU BEGAN PRODUCING AND YOUR LIKENESS FOR PERCUSSION?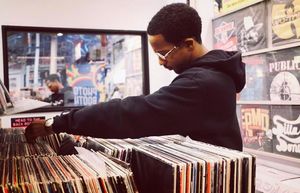 I started producing right before I left Ohio. I always had sample ideas I would bring to producers to flip and sometimes they would pan out, sometimes they wouldn't. Eventually, I decided to take the power into my own hands, and the producers that I worked closely with taught me damn near everything they knew. 
Percussion is an integral part of my production. I like for my percussion to play off different parts of the beat. It enhances the swing in my boom-bap beats and the bounce in my double-time beats. Sometimes I don't use any percussion but that's rare. 
WHAT WAS THE BEST NO YOU HAVE EVER RECEIVED AND WHY? 
I don't have a best "No" but I will say that along this journey of being an artist that I've become numb to "No". Understand that hearing "No" ain't personal in most cases, so I don't take it that way. Hearing a "No" is just another opportunity to keep it moving and make something else happen. 
WHILE LISTENING TO YOUR DISCOGRAPHY, ONE OF MY FAVORITE TRACKS WAS PULL-UP/EA$TSIDE SHIT FROM DND 2. ON THE PULL-UP HALF, IT TOLD THE STORY OF HAVING AFFINITY FOR A WOMAN WITH A "FRAME [THAT'S] BOTTLE-SHAPED, SKIN LIKE COCA-COLA." THERE'S THIS FEMALE CHARACTER IN THE SONG THAT SAYS "WE STILL HADN'T LINKED UP YET. YOU FOUND ALL THIS TIME TO FUCK WITH BITCHES FROM KOREATOWN. YOU CAME TO LA FROM FUCKING OHIO. YOU'RE SUPPOSED TO FUCK WITH AN LA BITCH. I'M THE LA BITCH THAT YOU NEED TO BE FUCKING WITH." 
IT GAVE THE TRACK EVEN MORE OF A STORY AND I ENJOYED THE STATIC AS THE TRANSITION INTO EA$TSIDE SHIT. IT WAS LIKE IF I WAS WATCHING TELEVISION FLIPPING THE CHANNEL FROM A TNT SHOW TO SOME NEWS REPORT. THE TONE OF THE SONG SHIFTS FROM A PLATONIC ONE TO REPORTING ABOUT RACISM AND HOW BLACK BOYS DON'T HAVE ANYONE TO CRY TO. THE LAST LINE WAS A STRONG CLOSING BY SAYING "I DONE CHOPPED FAMILY AND FRIENDS TO GET RIGHT HERE... AND WHAT THEY TALK ABOUT AIN'T NONE OF MY CONCERN, I'VE BEEN TRYING TO EARN, POUR THE GASOLINE ON THE BRIDGE, WATCH THE FIRE BURN..." WAS THE PURPOSE OF THE SHIFT TO FOLLOW THE THEME OF MARKET STREET FROM DND 2 AND WHAT WAS THE PURPOSE OF HAVING PULL-UP ON THE SAME TRACK AS EA$TSIDE SHIT? 
First and foremost, I thank you for appreciating the fine details in these songs and transitions. You're absolutely right though, the juxtaposition between Pull Up and Ea$tside Shit was deliberate. 
The audio clip I placed at the end of Pull Up was just the finishing touches on the picture I was painting on that record. 
"Ea$tside Shit" almost serves as a prelude/interlude to Market Street. The Eastside of my hometown is where I spent the first half of my childhood and Market Street is the street I grew up off the second half of my childhood, a "better" side of town. So when I say "The grass ain't greener on the other side. The white folks call the cops in the summertime…" that's what I'm referring to. The line about me chopping off friends and family, that shit is real. When I talk about purposely burning bridges, that shit is real. I make the best music when I speak out about my reality. 
I treat my music career as a novel and every project is a different chapter. Every song has a part of my life story in it.
YOU HAVE PERFORMED ON PAYDAY LA IN THE PAST WHEN WE HAD OUR JULY 2019 SHOW AT THE VIRGIL. WITH VENUES RETURNING TO HAVING REGULAR SHOWS AMID THE PANDEMIC, WHAT DOES IT MEAN TO YOU TO BE PERFORMING LIVE AT PAYDAY LA THIS GO AROUND? 
I'm grateful for the opportunity to perform, for sure! The beginning of the pandemic made me realize that I may have taken performing for granted, my appreciation and focus are different now.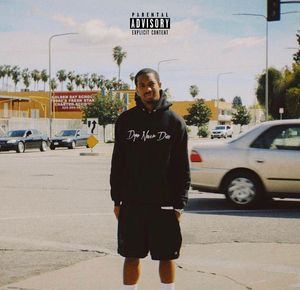 The latest music from Keilyn, Dope Never Dies 2 is out now on all streaming services. Watch him perform live on the next PayDay LA event November 23rd, 2021at 9pm at Resident (428 s. Hewitt st., LA, CA, 90013). Grab your tix here.