Bale is a product of south central Los Angeles, and a name to get familiar with in the current renaissance era of rap coming out of the city. He will be gracing the stage Tuesday October 12 for PayDay L.A. At Resident. We caught up with Bale to learn about how he gravitated to the microphone, growing up in the concrete jungle, his recent guest verse on The Ballad of a Dopehead (from Jay Worthy, T.F., and Budgie), and his most recent solo project Live from the Trenches II. 
Interview conducted & written by Dylan Fleming (@DylanisPALM)  for PayDay. Photo credits: NewHighFilmz, Van Corona, and Leilani Neder for PayDay LA.
Tell us about where you're from and grew up? 
I'm from South Central, Los Angeles. When I was in 2nd grade, I moved from St. Charles in Midtown to Normandie Ave, which is where I remained for the rest of my childhood and youth. Our initial landing spot was on 41st & Normandie at my uncle Junior's where I lived with my mom and younger siblings. A year later, we moved down Normandie to the 80's. Since I was raised by a single mother, I spent a lot of time with my cousins and aunties, who also happen to live off of Normandie --- one on 53rd while the other on 39th St. I even went to Normandie Ave. Elementary School, so that street really sums up my upbringing. While one main street remained consistent, the neighborhoods didn't. I understood early on how different yet similar life can be in South Central just some blocks away.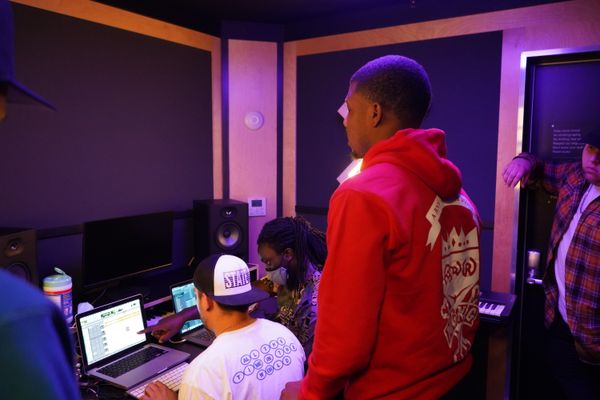 What led you to becoming an emcee? 
Rapping just kind of found me. I know that sounds cliché, but it's true. I was in a transitional place in my life where I didn't know what was going on. I was kind of homeless to keep it G, so the music and rapping helped get my mind off what was going wrong at the time. Then it just grew into something I became passionate about. It became a force that guided me on a new path and that made me fall in love with it. Now I'm trying to be the voice that resonates and helps uplift someone that is in that same position of uncertainty, and hopefully my story can inspire them to find their own purpose through whatever their facing. 
Who are your top 5 dead or alive? 
Deciding on a consistent top 5 D.O.A is hard for me because there's so much good shit out there, and I feel like I discover new albums everyday that I gravitate toward, so the more I dig, the more I find. But as of now, I would say the top several artists that have influenced me the most are: 
Hov 
Lil Wayne 
Schoolboy Q 
Kurupt 
Juelz Santana 
Nip 
50 Cent 
How'd you decide on the name Bale? 
Bell is my last name so I just flipped it and made it an acronym. 
Believe 
Achieve 
Live 
Exceed 
and that's pretty much the course I'm on. 
How was it working with Jay Worhty, T.F. and Budgie on The Ballad of a Dopehead? 
First of all, I have to say I'm forever grateful for the opportunity that TF, Jay Worthy, and Budgie provided. They threw me a crazy lob when they didn't have to. The project has been in the works for a while, so for it to still sound as good as it does, is a testament to how dope those dudes are. TF and I are like family; I grew up with his younger brother, and he grew up with my older cousin. We've been locked in with music for a minute. Jay Worthy and Budgie are very solid dudes. When the opportunity came about I was in the lab prepared, and I think that is the deciding factor on being able to be on any project or not. They're all just vets when it comes to staying consistent, so big ups to all 3 of them.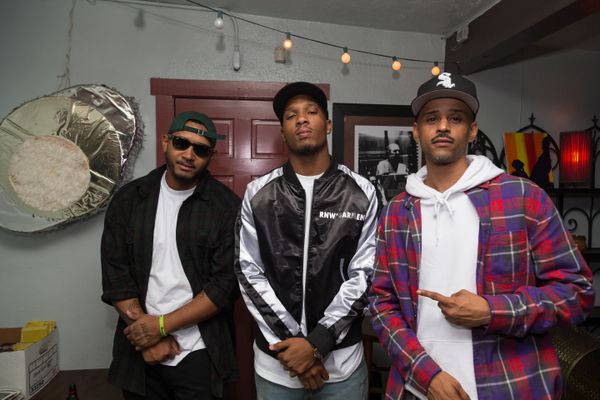 Tell us about your most recent project Love from the Trenches II? Who is that on the cover art? 
Live from the Trenches II is the second installment of the series. LFTT I came out last year. If you haven't listened to it, tap in; it's a 5 song EP. I'm most likely going to do one more, and I have a feeling number 3 is going to really put a stamp on the series. This is just my version of a tape series similar to what the rappers that influenced me have done in the past (i.e. Jay-Z, Wayne, Nip).  I think it's dope to be able to show my growth from volume to volume. 
The cover is a photo of my dad, who's been in prison since I was 2 years old. He's serving a life sentence, so including him in the cover is my way of keeping his name alive, and continuing with the theme from the cover of Volume I. 
What's next for Bale? 
What's next? I'm continuing to grind, so I'm going to keep releasing music, doing more shows, and dropping some fire merch very soon. So if you're a BALE fan, please stay locked in because some heat is coming. 
If not music what would you be doing? 
If I weren't doing music, I'd probably be an offensive coordinator for a football team (NCAA or NFL) or in the film industry as a producer. When I'm not rapping, I spend my leisure time watching sports and films, so I would probably gravitate to either realm.
The latest music from Bale, Live From the Trenches II, is available now on all streaming services. Watch him perform live on the next PayDay LA event October 12th, 2021at 9pm at Resident (428 s. Hewitt st., LA, CA, 90013). Grab your tix here.