The bold sassiness of 22 year-old rapstress Backwood Brat sets her apart from all others in her lane. The Long Beach, CA native will be gracing the stage on Tuesday August 31st for PayDayLA at Resident.
PayDay caught up with Backwood Brat to hear about talk about her new project Give N Take, how she got started rapping and more! 
Interview conducted & written by Dylan Fleming (@DylanisPALM)  for PayDay. 
Give N Take provides a taste of the Treacherous records roster with guest appearances from P1 (PayDay alumni), NiQLE, and Daymo. There are additional features from L.A. rappers Rucci and bbyafricka. 
Backwood Brat first exploded onto the scene in 2021 when she appeared on Blueface's reality show Blue Girls Club. She was featured as a guest on MadLately, a podcast on the No Jumper Youtube channel hosted GinaViews, Gabe, and Rosecranse Vic. Sporting a bandana covering her face, sunglasses, and a camo jacket, the young rapper brought out all the ratchet sassiness from the city by the sea. 
Over 1000 TikTok videos were created to Backwood Brat's buzzing song "In My Bag." She has also racked in 170,000 YouTube views so far and counting. 
How did  you get started rapping? 
I started making music becauseI knew I could rap better then a nigga I was fucking!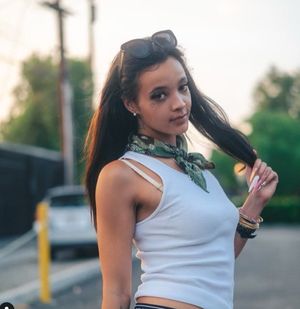 Why does your latest album Give n' Take mean to you? 
Give n Take shows you all of me. A lot of times I feel misunderstood and like people turn their backs on me. So that's why my album cover is my back because I turned my back on them too. This album shows you every side of me, tells my story, give n' take. 
What's your message behind the music? 
My message behind my music is that this is my life! Either you gon listen or not!
The new project from Backwood Brat, "Give N Take" is out now on all streaming services. Watch her perform live on the next PayDay LA August 31st, 2021at 9pm at Resident (428 s. Hewitt st., LA, CA, 90013). Grab your tix here.