CAM ARCHER IS A RAPPER'S RAPPER FROM SAN BERNARDINO, CALIFORNIA. HE IS A PROFOUND MEMBER OF THE OVER EVERYTHING COLLECTIVE THAT INCLUDES THE I.E.'S OWN JAY KASAI AND JOE SWEATPANTS. IT WAS FIRST MENTIONED THAT CAM BEGAN RAPPING BACK IN THE LATE 2000'S. CAM HAS GRACED SEVERAL PLATFORMS SUCH AS SHADE 45 RADIO AND BECAME A WELL-KNOWN FACE FOR DAMIAN LILLARD'S 4 BAR FRIDAY SERIES.

DURING THE HAPPINESS OF PURSUIT FESTIVAL POP-UP EVENT AT FIREWATER IN ONTARIO, HE STATED THAT HIS MUSIC COVERS TWO THINGS HE LIKES: ANIME AND WOMEN WITH FAT ASSES. RIGHT AFTER THAT, HE PERFORMED ONE OF HIS HITS SAILOR MOON. YET, HIS MUSIC CONTAINS A VARIETY OF SAD BOPS SUCH AS AWKWARD COVERING INSECURITIES AND EXISTENTIALISM. HIS MUSIC IS ACTUALLY MORE INSIGHTFUL TOWARDS HIS INTERNAL BATTLES. HIS DISCOGRAPHY ALSO CONTAINS SONGS OF BRAVADO LIKE DREAMS AND NYC FROM THE COLLABORATIVE MIDNIGHT RUN ALBUM WITH JAY KASAI. 
Interview conducted and written by Jay Guevara (@justinhisprime) for Payday LA and TheMSQShop. Photo credits: Artist's own, BYF Productions for PayDay LA.
IN MY INTERVIEW WITH GQ, HE TOLD ME THAT YOU GUYS WORKED TOGETHER ON MUSIC AS HE WAS YOUR PRODUCER. EVENTUALLY, YOU AND A FEW OTHER PEOPLE JOINED TOGETHER TO FORM A GROUP KNOWN AS "DYING BREED" IN THE EARLY PART OF THE LAST DECADE. NOW YOU'RE AFFILIATED WITH OVER EVERYTHING. COULD YOU DESCRIBE HOW YOU GREW IN COLLABORATING WITH OTHERS MUSICALLY?
Collaboration is how my work even got started. GQ introduced me to his friend that rapped and went by the name Comic. We immediately became a duo. When that ended, I had nowhere to consistently create. Then I met my big bro Dre Shot and began working with him frequently. I met Kasai, Speech, and CJ around 2013 (they were Dying Breed). We started Over Everything shortly after that. Everyone I've ever worked with has helped me get better artistically in all facets. When I started I was just a punchline rapper. I've become a lot more than that today.
WHAT WOULD BE A GOOD STARTING POINT FOR PEOPLE TO GET FAMILIAR WITH YOUR MUSIC?
I would say No Apologies or the first El Guapo. Those show the well-rounded nature of my skill set.
WITH THE LIKES OF SMOKE DZA, WALE, AND WESTSIDE GUNN CONSTANTLY PAYING TRIBUTE TO WRESTLING NOSTALGIA WITH A PLETHORA OF PROJECTS DEDICATED TO ALL THE WRESTLING ERAS OF THE PAST AND TODAY, HOW DO YOU SEE THE INTERSECTION OF WRESTLING ENTERTAINMENT AND HIP HOP CULTURE EVOLVING IN THE NEXT FEW YEARS? DO ANY WRESTLERS INFLUENCE YOUR ART?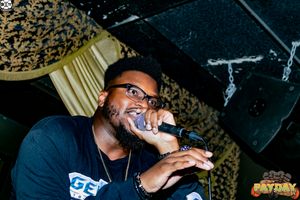 I love the way wrestling has become a bit more synonymous with rap. I think it only gets stronger from here because of the mutual respect on both sides. Quite a few wrestlers have helped to influence my style and my presentation. The natural flashy nature or rebel stances of certain stars over the years played a large role in a ton of what I do.
DESCRIBE THE INFLUENCE THAT 4 BAR FRIDAY HAD ON YOUR WRITING.
4Bar Friday definitely helps me stay sharp and helps to develop consistency. I go through a lot of dry spells from a writing perspective that can cause me to be hard on myself. Looking back at the work done through 4BF helps to remind me of what I'm capable of.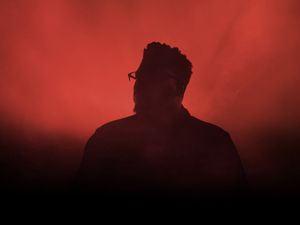 YOU HAVE PERFORMED PLENTY OF TIMES IN CALIFORNIA AND EVEN IN ARIZONA. WHERE WOULD BE SOME PLACES THAT YOU WOULD WANT TO PERFORM AT?
I want to perform in Seattle; I've yet to go to Atlanta so that would be cool too. Chicago would be fun. Honestly, I'll perform wherever they'll have me.
The latest music from Cam Archer is available on all streaming services. Watch him perform live on the next PayDay LA event November 23rd, 2021at 9pm at Resident (428 s. Hewitt st., LA, CA, 90013). Grab your tix here.