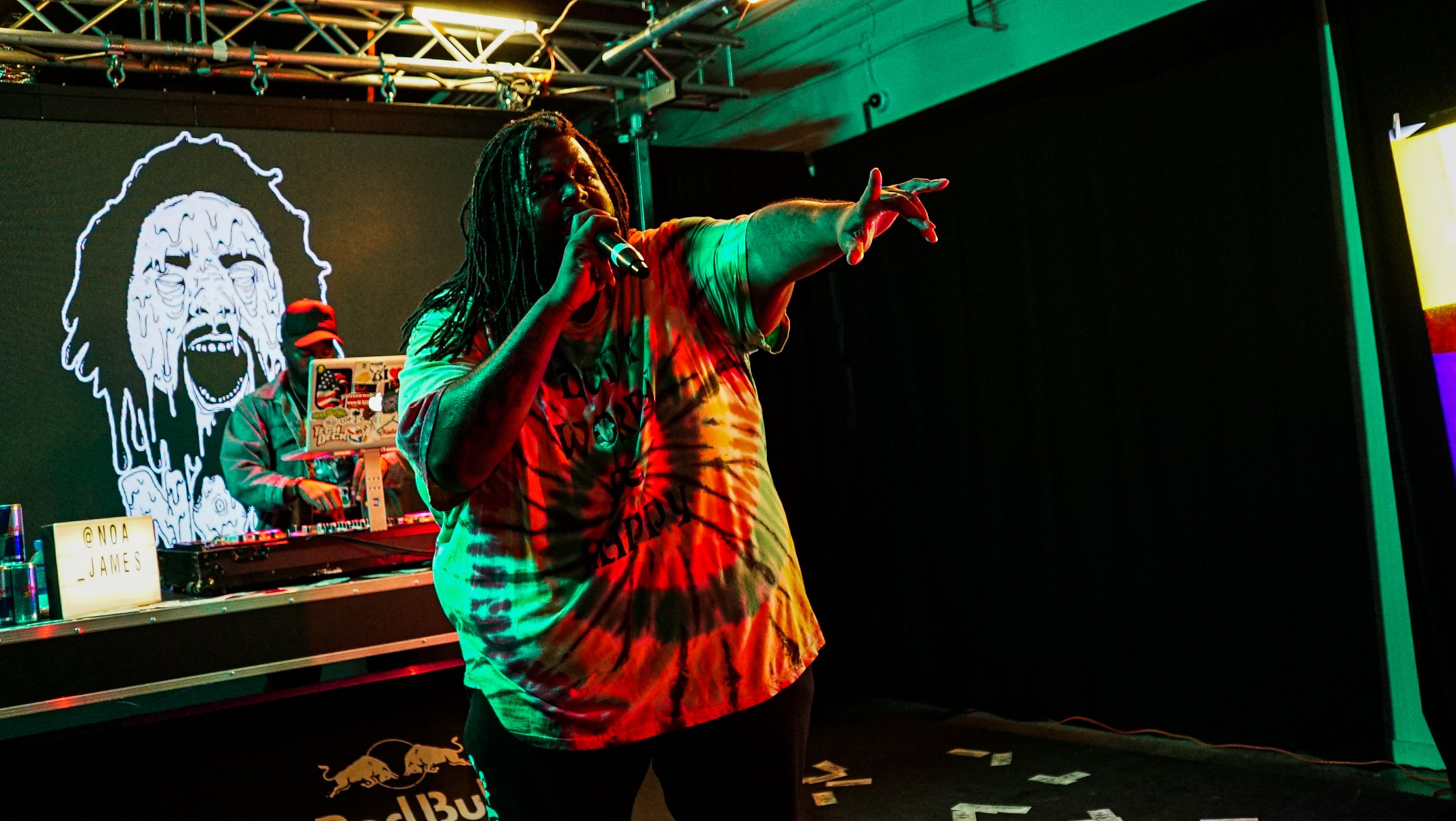 NOA JAMES IS A RAPPER FROM THE INLAND EMPIRE IN CALIFORNIA. HE IS KNOWN FOR HIS DEEP AUTOBIOGRAPHICAL RAPS THAT WILL HAVE LISTENERS FEEL LIKE THEY'RE WITH NOA EVERY STEP OF THE WAY. NOA IS A CORNERSTONE OF THE SOUTHERN CALIFORNIA RAP SCENE AS HE MADE IT ON NUMEROUS PLATFORMS LIKE HIPHOP DX AND LA WEEKLY ALONG WITH PERFORMING WITH THE LIKES OF MURS, DOM KENNEDY, CURREN$Y, FREDDIE GIBBS, DMX, KURUPT, AND SO MANY MORE. BEFORE 2021 ENDED, NOA FINISHED A MULTI-CITY TOUR WITH MURS AND AYE SINCERE. THE PAYDAY ALUM HAS PERFORMED AT MANY STATES AND VENUES PUTTING ON FOR THE I.E. WHERE EVER HE GRACES A STAGE. HE IS ALSO A MAN OF PHILANTHROPY AS HE HOSTS ANNUAL TOY DRIVES AND OTHER EVENTS GIVING BACK TO A COMMUNITY THAT GIVES HIM SO MUCH LOVE. I FIRST MET NOA AT AN ART GALLERY IN SAN BERNARDINO AND EVEN SAW SPIDER-MAN: NO WAY HOME FILM WITH HIM IN THIS PRIVATE SCREENING EVENT IN DECEMBER. NOA IS A WALKING ORB OF POSITIVE ENERGY AND YOU CAN FEEL IT DURING THE CONVERSATION. HE KNOWS HOW TO CHANNEL HIS AURA REALLY WELL TO GRAB ANYONE'S ATTENTION. IT WAS A PLEASURE TO INTERVIEW THIS MAN AND I HOPE YOU ENJOY THE INTERVIEW AS MUCH AS I DID.
Interview written and conducted by Jay Guevara. (@justinhisprime on all social media. Writer for PayDay LA and @theMSQshop)
WHAT DOES IT MEAN TO PERFORM ON PAYDAY LA? WHAT ARE SOME OF YOUR FAVORITE MEMORIES FROM PAST EVENTS? 
It's majestic! I've been there since the beginning & have seen it grow beautifully. Chuck introduced me at one of the shows & it was very heartwarming. Someone came up to me & said "Chuck really loves you" it was touching. 
YOU PERFORMED AT COMIC-CON LA FOR THE FIRST TIME. I SEE THERE HAS BEEN SOME ANIME INFLUENCE WITHIN YOUR DISCOGRAPHY FROM SONGS LIKE BUU'S HUNGRY, THE FLOOD, AND I GO BERSERK (BROLY TRIBUTE). HAS THIS ALWAYS BEEN A DREAM OF YOURS AS AN ANIME FAN AND EMCEE? WHAT ARE SOME OTHER ANIMES YOU'VE BEEN WATCHING AS OF LATE? 
Anime has had a big influence on my life, I feel like it's for the parentless & fatherless kids. The people who are the black sheep in their family. For kids that grew up as I did in poverty & less fortunate areas, anime became an escape. Anime will of course be incorporated into my music, being able to share it within that world was definitely a dream come true. I've been watching Demon Slayer, Hunter x Hunter, Fire Force, Haikyu!! & Attack on Titans. 
YOUR LIFE JOURNEY HAS BEEN AN INTERESTING ONE. YOU'RE ORIGINALLY FROM QUEENS BUT WENT FROM NEW YORK TO JACKSONVILLE TO PASADENA AND EVENTUALLY SETTLED IN THE INLAND EMPIRE, BETTER KNOWN AS THE I.E. TO CALIFORNIA LOCALS. FROM YOUR INTERVIEW WITH PASSIONWEISS, IT WAS NOTED THAT YOUR ORIGINS IN RAP BEGAN IN BATTLE RAP AND THE PUNK MUSIC SCENE. WHAT MADE YOU TRANSITION FROM BATTLE RAP TO FOCUSING MORE ON MUSIC?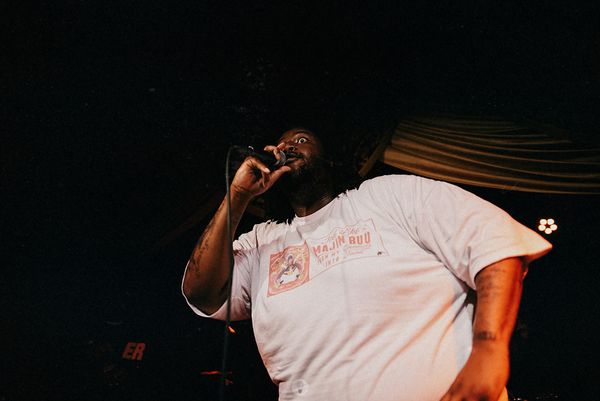 I started realizing I was tearing down people, there's power in the tongue. I stopped liking it for myself. 
WOULD YOU EVER STEP BACK IN THE BATTLE RAP REALM? 
I recently did around 2018-2019 for this rap competition. One of the rounds was a battle. I wasn't sure how to approach it since I hadn't done it for so long & the person I am now is a pretty positive person. When I was trying to figure it out, my girl told me "don't be rude" & that's the approach I decided to take, more witty & fun instead of dark & grimey. It'd have to really be worth it for me to fully go back. 
WITHIN YOUR EXPERIENCES AS A PERFORMER AND EVENT COORDINATOR WITH PAST TOY DRIVES AND SHOWS, WHAT ARE SOME COMMON ISSUES YOU SEE WITHIN STRUCTURING A SHOW? ARE THERE SUCH THINGS AS A SIMPLE FIX TO THOSE COMMON ISSUES? 
The only reoccurring issue I've seen is having people in the proper position to make things run smooth. Also, when there are people in the proper position, they're being micromanaged & not trusted to handle the position. Real communication, transparency & trust can help these issues. 
WHO WOULD YOU WANT TO PERFORM WITH NEXT FOR A SHOW? 
ScHoolboy Q or Duke Deuce. I feel like it would be a lit crowd!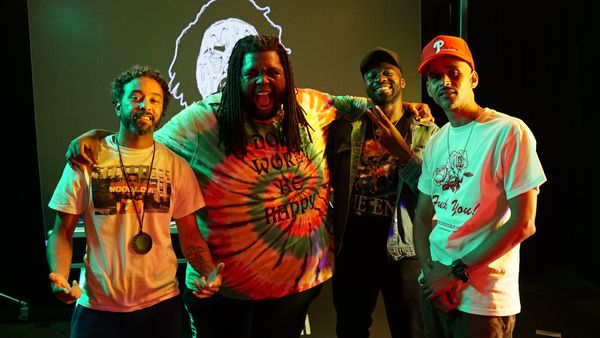 IN YOUR VIDEO FOR "THE FLOOD (MAJIN VEGETA)", I LOVED HOW THE LINES "SATURDAYS WERE CRACK HOUSES AND CARTOONS, IN DARK ROOMS WITH HARSH FUMES, BECOME A HARPOON OR SHARK FOOD, BECAME A KILLER WHALE, YEA SMART MOVE. I AM DOC DOOM IN ART SCHOOL..." WERE PAINTED AS PART OF THE THEMES FOR THE VISUAL. YOU'RE IN A DARK ROOM SMOKING WHILE WATCHING OLD MOVIES SPITTING PAST MEMORIES OF FAMILY PAIN AND INTERNAL BATTLES." WAS THAT THE INTENT FOR THE VIDEO? TO PAINT AN IMAGE OF AN ENVIRONMENT YOU WERE IN IN YOUR YOUTH? 
Yes, pretty much. Not specifically for that line but the whole theme of the video. 
YOU HAVE WORKED WITH PLENTY OF ARTISTS AND PRODUCERS? WHO IS LEFT ON YOUR LIST OF PEOPLE TO WORK WITH? 
Hit-Boy, Alchemist, NiceGuyVinny, an EP w/ Jansport J & an album with Pakk Music. I actually want to start a couple of groups with me & other producers & rappers. 
Stay up to date with Noa on social media @noa_james on Instagram and @NoaJames on Twitter. Catch him performing at PayDay LA on January 19th, 2022 @ Resident. Free with RSVP here.